Parent Quotes and Feedback
AIM Athletics received the 2018 Gym of the Year Award at the gymnastics state awards banquet in Dallas, Texas!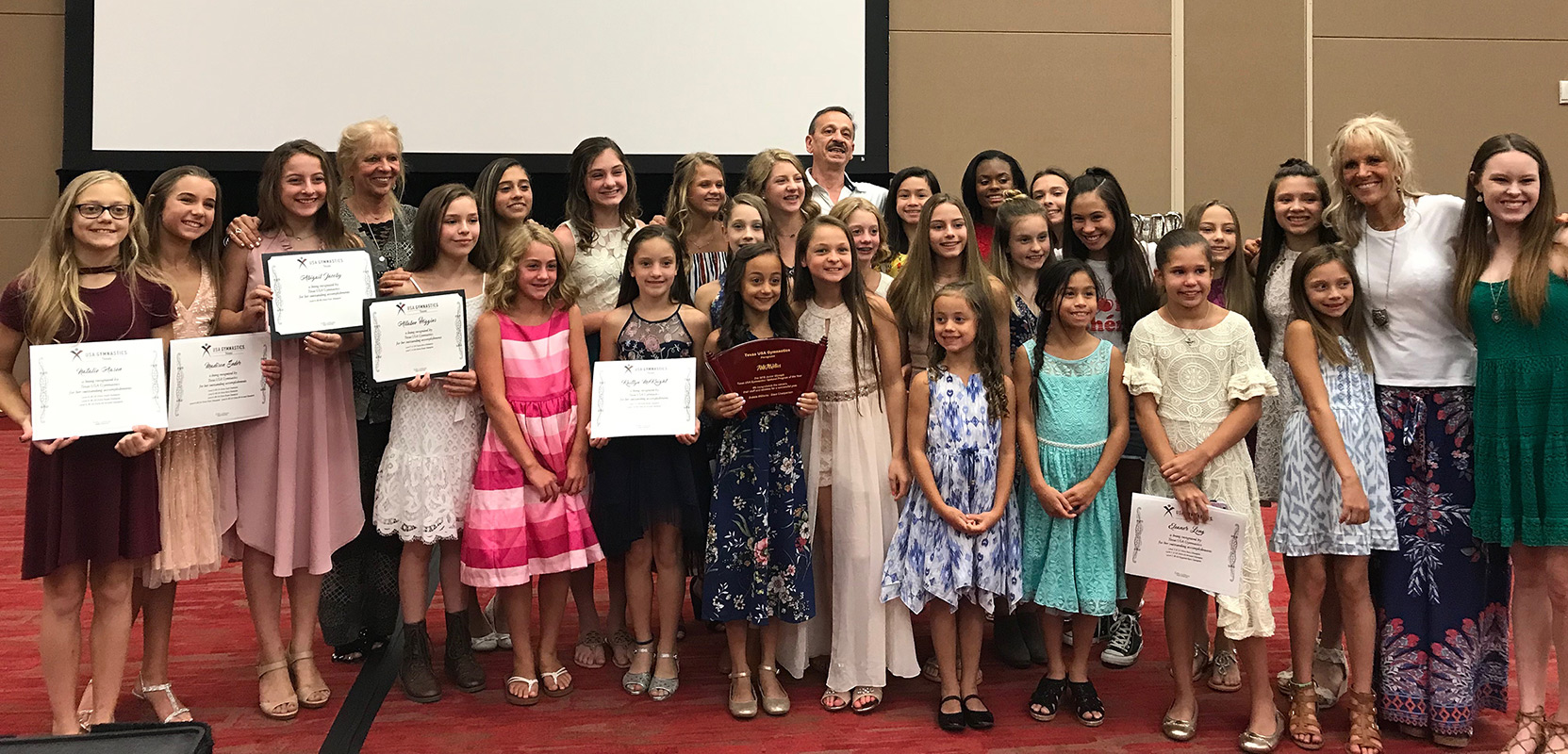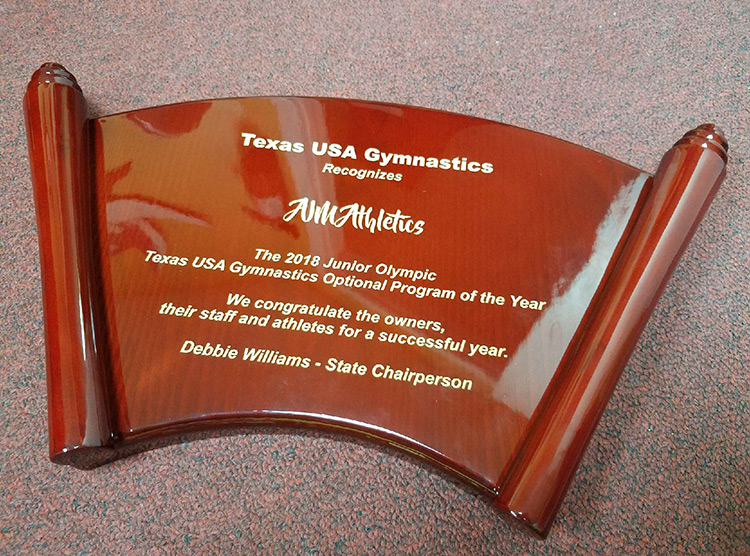 The coaches at AIM are the best in the industry! Our daughter (Madison, Level 7) has excelled over the years and is continuously challenged and encouraged to do her best. I would highly recommend AIM Athletics to anyone interested in gymnastics.
Ally and Mike Seder
(Parents to Madison Seder, Level 7 Team)
We have been so blessed by these coaches. See we are a military family so options for gyms can be very limited at times but the gym we left we absolutely adored. So when we moved almost 10 months ago from NC we prayed the Lord would lead us to the place we can call home and a place that could help Ella achieve her goals! Thank you AIM Athletics for taking Ella in with open arms and guiding her through a very hard season when we got to your gym! See we had gotten into a bad accident last year April. When we finally got to Houston, Ella was out for at least 3.5 weeks and was very de-conditioned! The coaches saw her and said we will take it slow and help her through this! We are so beyond blessed that you stood by her even though they didn't know her yet or know what she would bring to the team! We are forever grateful!
Lori Robins
(Mother to Ella Robins, 2018 Level 9 Region 3 All Around Champion)
We learned about AIM through competitions our oldest daughter Ava was competing in. We saw AIM athletes taking the high scores in all the comps we took her too. Ava was with a different gym at that time. After years of competing she decided to participate in team sports and left gymnastics. My wife Keri and I already had our youngest in a preteam program at a different gym and decided to take Kerrington to AIM. Not because of the high scores we saw in competition, but because of what we saw in the coaches on the competition floor.
Before we were even with AIM we saw athletes that had many coaches to support them at the competition. We saw coaches coaching children not just in gymnastics, but in life. They coached attitude, presence, drive. They were shaping a mindset. They are shaping excellence in life. And that is why we have chosen AIM as our home. The fact that they win is just a bonus. The foundation that enables them to win is why we are here. Work, persistence, commitment to one self, commitment to team, commitment to being better and greater every day, commitment to excellence, these are the things we want our children to carry into their lives.
It's easy for everyone to stamp excellence on their marketing. It's another thing to actually pursue it. AIM is excellence. They eat sleep and breathe it, and we are so proud to have our child train here.
Jason and Keri Cooper, Founder CrossFit Enoch
(Parents to Kerrington Cooper, Level 4 Team)
We came to AIM last year and the whole experience has been nothing short of wonderful! What sets AIM apart from other gyms is that they care about the whole child…not just the gymnastics aspect. They are instilling lifelong lessons for our little's: goal-setting, perseverance, commitment, accountability, sacrifice, how hard work pays off, how to be a good teammate, how to listen, and most importantly how to dream BIG and aim HIGH! We can't thank the coaches enough for believing in our daughter and helping her become the best she can be 💗
Cheers!
Erin Schaefe
(Mother of Kenlie Shaefer, Level 4 Team)
Coach Deana and Coach Brooke are a pivotal reason my daughter, who is now 11 years old, has the love for competitive gymnastics that she has today. Coach Deana was very professional, knowledgeable and honest when she initially evaluated my daughter before joining AIM. When we moved from our previous gym, I was nervous about finding another local gym for my daughter. Having training, skill, and strength errors/weakness, I wanted to make sure my daughter had an experienced coach that would not only challenge her, but also allow her to have fun and be a kid too. Coach Brooke and now Coach Kelly are the perfect duo of coaches! Thank you coaches, administrative personnel, and front office staff for all that you do!
Jamie and Nikki Kinchen
(Parents of Berkeley Kinchen, Level 4 Team)
We love AIM! Speaking on behalf of my 9 yr old daughter, we're happy we have joined the AIM family! What an amazing group of talents! Thank you for all you do!
Latsamy McCullough
(Mother to Ava McCullough, Level 5 Team)
AIM Athletics and their coaches are second to none! Debbie and Deana create an environment where the gymnasts flourish and become AIMazing all around athletes. Our daughter Kaitlyn has been at AIM since opening their doors, and we can't imagine her anywhere else!
James and Brandi McKnight
(Parents of Kaitlyn McKnight, 2018 Level 7 State All Around Champion)
Our daughter has been with AIM over almost a year and a half now and the progress has been incredible. My wife and I could not be happier. The instructors are top notch professional and all the support staff are very helpful. A great gymnastics school, period!
Kevin Delahunty
(Father to Maria Delahunty, Level 3 Team)
When you AIM HIGH: Dream big, work hard, stay focused and surround yourself with good people.
Sarah Funderburg
(Mother to Karah Funderberg, 2017 Level 4 State All Around Champion, Training Level 5 Team)
My daughter attended AIM Athletics for four years and became a successful gymnast. The coaching you find here is top notch and like no other. What she learned from her coaches and the sport go beyond the gym as do her successes. She learned to handle stressful situations when put to the test with grace and composure. She learned to push herself to the limit to achieve her goals and dreams. My daughter gained friendships she will have for a lifetime. The coaches were safety-conscious and treated my daughter as if she were family. This experience at AIM will be one that is etched on our hearts forever. Thank you!
Erin Mcdowell
My daughter is new to competitive gymnastics and just moved to AIM from another very competitive gym. We could not be more pleased with the attention to details both inside (skills, routine presentation, strength, shape, short and long term goals and emotional and mental well being of her as a student athlete) and out of the gym (leo orders, bows/scrunchies, flip flops, fee schedules, training and competition schedules etc) at AIM.
The owners have created a culture of caring and extreme excellence which everyone from the coaches to the front desk to the team moms exhibit. They take care of everything so my daughter has nothing to focus on but being her best every session. The coaches are incredibly prepared and know their stuff and have a knack with kids (several are parents themselves) and get when to push and when to back off. The confidence the coaches have shown in our daughter's abilities is clear to her which has done wonders for her self confidence. We see how important this is in drawing out the best in her!
The families have been so welcoming we stopped feeling "new" very quickly! We highly recommend AIM to any family who has a child who is very serious about competitive gymnastics. We are confident our daughter will reach her individual potential (whatever that may be) at AIM and look forward to the journey.
Emma and Ronnie Hart
AIM cares deeply about developing the potential of each and every girl. All of the coaches at AIM are amazing, but each time Deana or Debbie work with my daughter she simply blossoms. My daughter's confidence has grown leaps and bounds. She is enjoying gymnastics more than she ever has and it shows. The girls love and support each other, true teammates and friends. We are so proud to be a part of the AIM family!
Amber Karns
AIM is the place I trust to train my daughter in gymnastics. Not only are they the best gym in the state, but they are the best gym in the nation! The coaches are first-class and will get the utmost out of your gymnast. We love AIM!!
Michelle Hitchcock
World class coaching is an understatement!!! The attention to detail, passion and commitment to each athlete from the owners and coaching staff is almost unimaginable! We switched our daughters on 5/2015 and to this day our daughters could not be any happier. Regardless, if you bring your athlete to AIM Athletics either as a first time beginner or as a seasoned athlete from another gym, the only regret you will have is that you didn't do it sooner!!!!
Roger Maul
We could not ask for a better gym for our daughter. The coaches are amazing and truly care about the gymnasts' success and well being. Aim has restored our daughter's love of gymnastics!
Amy Clark
I can't say enough good things about AIM! Deana and Debbie run a loving, focused, high standard setting and fun gym! We moved with our daughters from NC and were scared about how our oldest would transition into a new gym, coaches and friends. This was ALSO Deana and Debbie's concern! You don't find this kind of Elite coaching and care level these days. We are so happy to be part of the AIM family.
Elizabeth Slocum
Best coaching team ever! The coaches at AIM Athletics help each athlete achieve their personal goals and ensure that each the athlete has the opportunity to achieve their full potential — whether its for recreational fun or to someday secure a college scholarship — if you are interested in gymnastics then look no further AIM High!
BeLynda Smith
My daughter has been training at AIM since we moved to Texas 15 months ago. The competitive team training is unparalleled. She loves it there.
Betsy Zdroykowski
The coaches at AIM find and bring-out each gymnast's greatest potential by instilling confidence and tailoring coaching needs to fit each individual. They teach their gymnasts and teams to fight for what they want in life, and support each other along the way.
(Mother to Reese Duke, 2018 Level 7 State Vault & Floor Champion)
AIM Athletics has amazing coaches who are dedicated and committed to the athletes and their success! We have seen so much growth in our daughter since she began training at Aim, and are excited to continue to watch her talents unfold with the absolute best coaches!
(Mother of Avery Matlock, Level 2 Team)
AIM has taught my daughter that you have to work hard to achieve your goals, the importance of being much more than a team but a second family, that when she falls never give up but dust yourself off and get back up. I have seen my daughter transform from a little girl to a very dedicated and determined athlete. She thrives for this sport and is always pushed to do her best. The coaches are great with their ways of motivating the girls to perfect their skills! AIM creates a family of outstanding gymnasts.
(Parent of Celeste Madrid, Level 7 State Floor Champion)
Love it! Exceptional coaches & great staff! AIM is the place to be!!
Gil Long
I'm Daphne Kao's father. I have to say I'm incredibly impressed with Coach Brooke specifically. She really knows how to walk the line between making the sessions fun and having the disciplined practice of getting in all the repetitions. She is so ecstatic when kids get their new skills you can really tell she truly cares about them. We've had a couple of private lessons with her and I have seen tremendous growth after each one. I highly recommend her to anyone curious about gymnastics for their kids!!
(Father to Daphne Kao, Level 3 Team)